Noor Jehan the Melody Queen reigned supreme over the South Asian music scene for more than six decades. She rose from near oblivion of the backwaters of Kasur, then hardly more than middle-sized Punjab town, to the dizzy heights of stardom as far back as the 40s, with songs ranging from classical to folk and ghazal to geet. Her mastery over melody with a strong background of classical music remains unmatched. She sang Punjabi songs and Urdu ghazals with equal ease and amazing finesse.
Noor Jehan was born in Kasur on Sept 21, 1926. Her given name was Allah Wasai. She started her career on the stage at the age of six when Dewan Sardari Lal, financier of a theatre in Calcutta, took her there with her two older sisters Eiden Bai and Haider Bandi, who were both stage singers. The three sisters instantly shot into the limelight. Allah Wasai became Baby Noor Jehan.
Director K.D. Mehra cast them in his Punjabi film Pind Di Kuri in which Noor Jehan sang her first film song. One of the film's songs, Langh aaja patan channa dey o yaar, became an immediate hit, and remains a popular number even today. The picture was released in 1935, and the next year Noor Jehan was given roles in Fakhri-i-Islam and Heer Sial. In 1937, when Pancholi Studio was set up on The Upper Mall in Lahore, its owner, Dilsukh Pancholi, employed Noor Jehan and her sisters for the film Gul Bakawli. It set a record at the box office.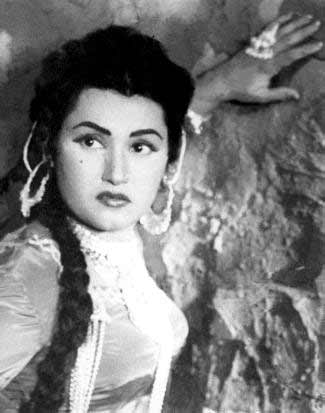 In 1940, Noor Jehan was cast in Yamla Jat, with M. Ismail in the male lead, and the following year she sang for the film Chaudhry. The same year, Pancholi started work on the Urdu film Khandan for which he acquired the services of Syed Shaukat Husain Rizvi as director. Rizvi had edited every film in which Noor Jehan had acted or sung since Calcutta, and their association was to later blossom into love and marriage.
Khandan was the first picture in which Noor Jehan was cast as the leading lady. She was only 15 years old at that time, and the prefix Baby was now dropped from her name. It is said Pancholi did not like the togetherness of Noor Jehan and Rizvi, and after the film was completed – released in 1942, it went on to become a hit – he sacked the actress. Noor Jehan's leading man in Khandan was Pran.
Rizvi and Noor Jehan then moved on to Bombay where the former started making Naukar, based on a story by Saadat Hasan Manto. The film flopped, but the two decided to get married. Rizvi then made Dost in which he played the role of Noor Jehan's brother. This too flopped. Between 1943 and 1946, Noor Jehan acted in Duhaai, Nadaan, Lal Haveli, Bhai Jan, Village Girl, Badi Maan, Zeenat, Anmol Ghari, Dil and Hamjoli. Zeenat proved extremely successful at the box-office, and its qawali number, Aahen na bhareen, shikwey na kiye… is still fondly remembered by many.
Two Noor Jehan films were released in 1947 – Mirza Shahiban and Jugnu. Jugnu was directed by Rizvi and was a resounding success. Noor Jehan's leading man in Jugnu was Dilip Kumar and the music was by Feroze Nizami. The song Yehan badla wafa ka… was on the lips of young and old alike.
After partition in 1947, Noor Jehan and Shaukat Hussain Rizvi shifted to Lahore where they were allotted the Shori Studios, subsequently renamed Shahnoor Studios. Here, Rizvi started his new picture Chanway (1951) which also did well. It was at this point that Noor Jehan decided that she would sing only for films in which she also acted. In 1952 came Dupatta which was directed by Sibtain Fazli. She also acted in Imtiaz Ali Taj's Gulnar which did average business at the box-office. A little later she appeared in M.A. Rasheed's Patey Khan and seemed to have fallen in love with its distributor, M. Naseem. This created a gulf between Noor Jehan and Shaukat Rizvi and their marriage broke up.
Other films in which Noor Jehan sang and acted included Agha Gul's Lakht-e-Jigar, Masud Pervaiz's Intezar, Anwar Kamal Pasha's Anarkali, J.C. Anand's Nooran, Hassan Tariq's Neend and Khurshid Anwar's Koel. Her films Pardesan and Ghalib failed which led to differences between Noor Jehan and M. Naseem, and the two parted ways.
Noor Jehan then came close to Ejaz who was then being cast as a hero in several films, and the two were soon married. She then decided to quit acting and concentrate on playback singing. She sang for Masud Pervez's Heer Ranjha, with the music being provided by Khurshid Anwar and the songs written by Ahmed Rahi. Many of the numbers, including Mein tey ho ho gaiyee qurban rey, were immensely popular. She became the centre of attraction for all film-makers who vied with on another to have her sing for their ventures.
For the loved ones, it seems that Noor Jehan has the quality of being a paras or a good luck charm. From Khandan to Gulnar, she had been a part of Shaukat Hussain Rizvi long career in films both before and after independence. After their divorce Shaukat could make only three films, Jaan-e-Bahar, Ashiq, and Dulhan Rani, but none of these clicked with the audience, creating doubts in the film trade about the capabilities of the maker of such great hits as Khandan, Zeenat, and Jugnu.
Similarly, Ejaz too went through the same kind of turmoil soon after he separated from the singing goddess and never quite reached the form that he had once attained with her. Ejaz then turned to production and made Dosti starring Shabnam, Rahman, Husna, and himself under the competent direction of the veteran Sharif Nayyar, and shot on locale partly in London and partly in the beautifully photographed northern areas of Pakistan. Yet the main attraction turned out to be the musical compositions of A. Hameed sung in the voice of the crooner, Noor Jehan. Chitthi zera saiyanji ke naam likh de and other lyrics by Tanvir Naqvi enthralled film-goers for so long that the film broke all previous records and became yet another diamond jubilee (in local cinema lingo `diamond jubilee' refers to a hundred-week run) bonanza of Pakistani cinema.
It is estimated that since 1935, Noor Jehan sang some 3000 film and non-film songs which is a record. Her rendering of Faiz's Mujh Sey Phehhli Si Mohabbat, recorded for the film Qaidi, moved the great poet so much that he was reported to have gifted the poem to the singer. Her patriotic songs sung during the 1965 conflict struck an emotional chord among the masses. Her colorful personality had inspired the incomparable Manto sketch entitled Noor Jehan Suroor-i-Jehan.
In her later years, critics say Noor Jehan had overexposed herself and descended to the level of singing double-entendre songs which were popular but a far cry from the standards she had set for herself earlier in her singing career. Noor Jehan is survived by two sons and four daughters. The sons, Akbar Rizvi and Asghar Rizvi, run Shahnoor Studios and one of the daughters, Zille Huma, is a popular singer. Noor Jehan and Lata Mangeshkar shared many things. Both were born in September and both started their singing career from childhood. Both played roles in feature films and both remained active for about 60 years as singers. Besides, both Noor Jehan and Lata worked in the film Badi Maa, made in Bombay in the forties, and both sang thousands of hit songs
Noor Jahan & Sudhir Photo